The Most Advanced Terminal Operating System for the Container Handling Industry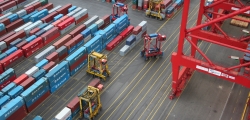 Realtime Business Solutions specializes in the development and implementation of the TOPS Terminal Operating System for the Container Handling Industry. RBS has many years of experience in software development and the implementation of such Terminal Operating System (TOS). RBS has been working exclusively in the Container Handling Industry for more than 25 years. During this time RBS has also been providing consulting services to the Shipping and Rail Container Handling Industry, developed highly specific State-of-the-Art software for the Container Handling Industry and has been carrying out the installation and implementation of their 'Terminal Operating System' software in many Container Handling operations all over the world.

The TOPS package is the most advanced terminal operating system available to the container handling industry today. The TOPS package – with the components TOPX (operation system) and TOPO (foundation system) – has been designed with the full operational spectrum in mind.

TOPS KPI dashboard is a remote management and data analysis and mining tool. It allows the terminal management to analyze the current performance of their terminal at any time and in real-time and to also view its past performance.

TOPS SimOne is a revolutionary solution for future terminal operation: TOPS SimOne uses full 3D emulation to not only simulate and to verify the planning of the operation but even before the execution of operation actually starts.

As a result of consolidated feedback, experience and new ideas, RBS has developed the next version of its terminal operating System (TOS), 'TOPS Expert' – the new version comes around with a lot of new functions and new automatic features.