The first full TOS on the cloud – The Most Advanced and Reliable Terminal Operating System for the Container Handling Industry
Why should small terminals not get a full Terminal Operating System (TOS)? Try out the TOPS Cloud solution with no upfront license cost and a pay-as-you-use model.
TOPS Expert Cloud offers a full suite of terminal management capabilities, including operations optimization; yard management; vessel management; berth management; crane allocation; container handling equipment management; gates management; reporting and interfaces to financial systems, Gate Operating Systems, REFCON reefer monitoring system, radio data terminals, and GPS systems. Furthermore, the TOPS package includes a management information dashboard and a monitoring tool, together with the fully integrated TOPS KPI functionality. It offers a full interface setup to connect through web services to your internal applications or other modules.
The TOPS Expert Cloud package – with the components TOPX Expert Cloud (operation system) and TOPO Expert Cloud (foundation system) – has been designed from with the full operational spectrum in mind.

TOPX Expert Cloud – The Terminal Operations System
TOPX is a true real-time graphical container planning, monitoring, and control System that is now available in the Cloud. This sophisticated software tracks every movement of a container through a marine terminal. TOPX Expert automatically manages the storage of containers in the terminal on their way to their final destination, minimizing the number of re-handling moves and facilitating the fast and easy retrieval of containers.
TOPX Expert Cloud supports the operational areas of Vessel Management, Rail Management, Equipment Control, and Yard/Truck Management. Have your planning at another place than your Operation? No problem with TOPX Cloud!
Within the TOPS Expert Cloud package, TOPX is the Terminal Operation Package. It has been designed as a high performance, scalable and reliable graphical solution.
TOPX Expert has constantly been enhanced over the past decade using the most up-to-date computing technologies. TOPX Expert Cloud makes use of a high degree of graphical display in well organized GUI Windows and user-definable and customizable colors and styles.

TOPO Expert Cloud – The Terminal Foundation System in the cloud
Within TOPS Expert Cloud the TOPO package is the terminal foundation system. It supplies the terminal with all possibilities to automatically receive and manually manipulate information. All information is shared within the whole TOPS package between TOPO and TOPX. All TOPS modules are totally integrated into TOPS, in order to support a seamless operation process at the terminal from the foundation module to the graphical system.
TOPO is based on a .NET architecture connecting a smart client to an SQL based database, e.g. the Oracle database. Just connect through the browser to your cloud solution
The TOPO system has an easy to use, intuitive GUI that is very familiar to users of MS Windows. It supplies many standard Windows features – such as exporting every list from the system on-the-fly to Excel or HTML.
The TOPO solution comes with additional modules like EDI processing, reporting and open interface via webservices:
TOPO EDI Server – handling all EDI traffic
TOPO Report Server – handling all scheduled reporting from the system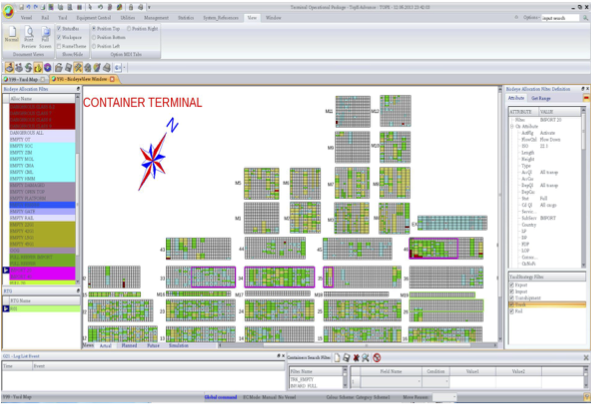 Reporting Tool
A PDF capable reporting tool has been integrated into the TOS, as well as a standard export interface to programs such as Microsoft Excel. This applies to the new foundation TOPO Expert, as well as to the operational module TOPX Expert.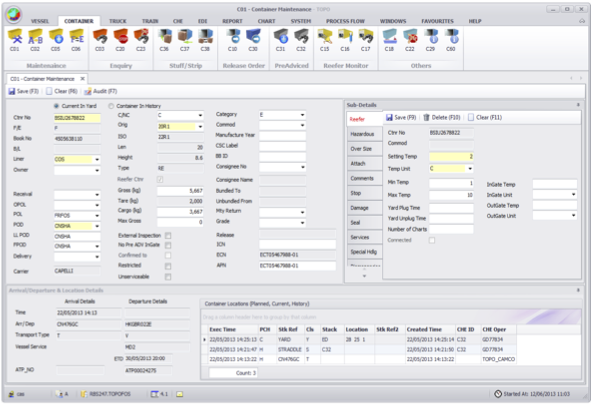 Big Data
RBS has also integrated new heuristic algorithms, which enable the system to e.g. perform data handling using 'Big Data' analysis.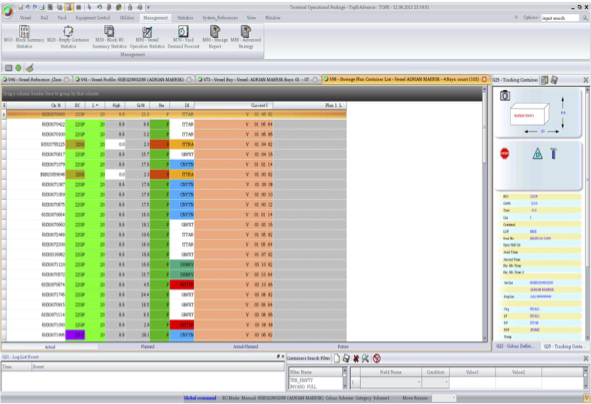 Automated Berth Planning
In addition to that, a new automated berth planning feature is included in the TOPX Expert version, which aims to set the standard for efficient operations.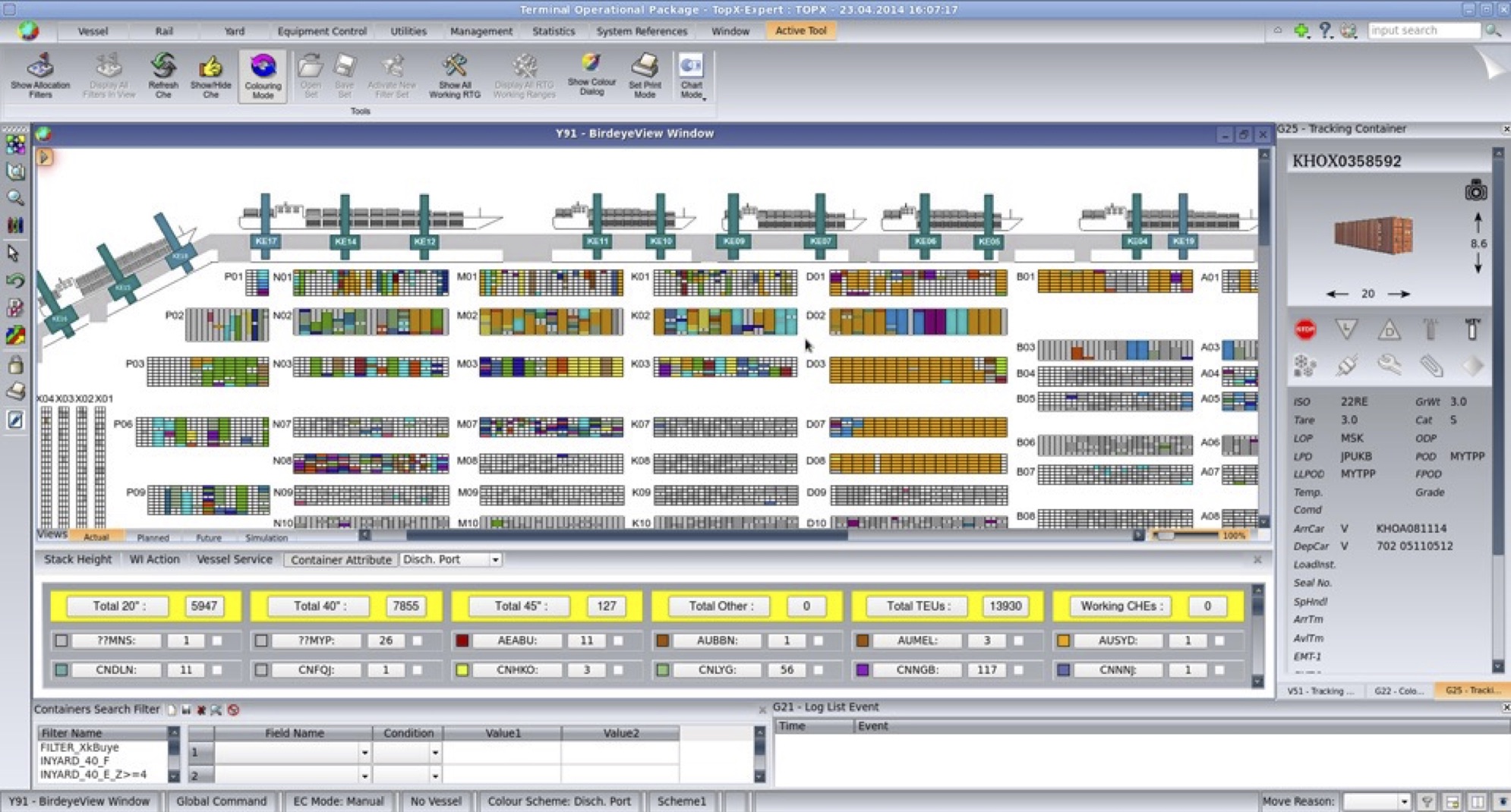 Using new and smart algorithms to automate the berth planning, enhances the future operation from the beginning of the planning process down to the actual execution. This unique automated process, as well as the new intelligent algorithms, uses all available data, such as estimated discharge distances, the location of load cargo, and many more.
Berthing decision is based on Big Data, smart calculations, and brilliant visualization, making the daily tasks of your planners more effective and more efficient.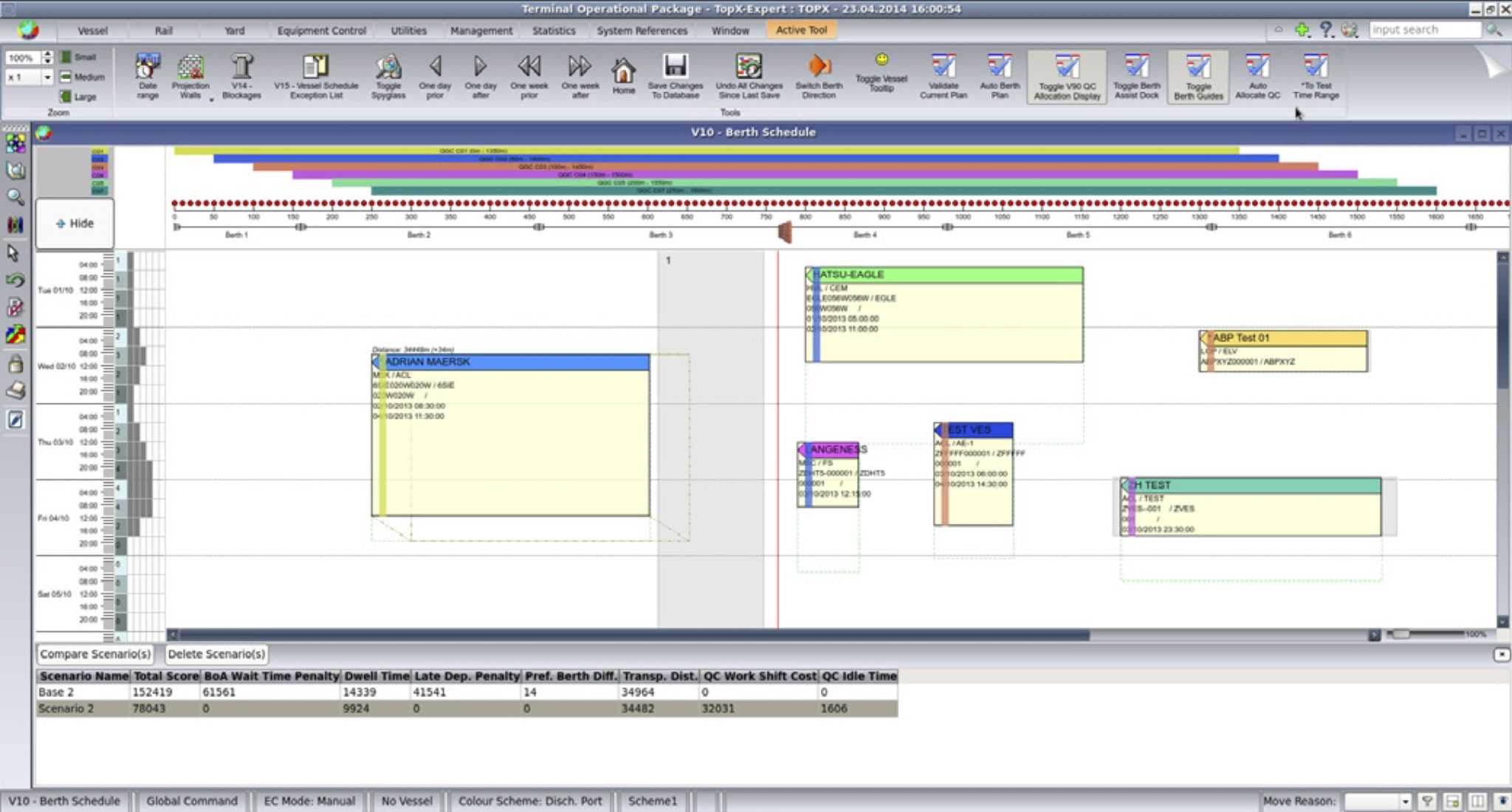 Highly sophisticated, practice proven algorithms, together with the unique RBS in-memory architecture, are the basis for true berth optimization, anticipating yard strategy, making berth planning more efficient and allowing an optimized equipment control.
TOPS Expert enables terminals to actually foresee what is going to happen during operations, avoiding unexpected events and improving speed, reducing turnaround times and increasing quality and service levels.