(click image for demo)
TOPS KPI is a remote management and data analysis/mining tool that allows the terminal management at any time to analyze the current performance of their terminal and to also view its performance in the past. The terminal's performance can be monitored from any location and any browser with access to the terminal's network via the internet or intranet. The dashboard figures are constantly updated directly from the operational system.
TOPS KPI Main Screen
On the main screen – Total Terminal View – the TOPS KPI Dashboard shows the key figures of the core business areas of the terminal, covering all assets of waterside and landside operation. The tool displays the most relevant data of vessel operation, e.g. ETA, ETD, discharge/load moves, CHE performance figures and more. In order to get a more detailed insight into the yard, the tool shows KPI figures of yard activities per hour or per block, as well as the overall yard utilization, the split of import, export and transshipment containers. Gate activities and truck turnaround times are essential for terminals and are displayed, too.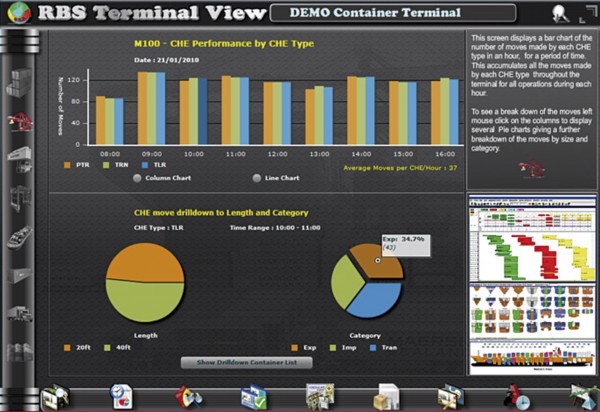 CHE Performance by CHE types
Displays a bar chart of the number of moves made by each CHE type on an hourly basis for a specified period of time. It accumulates all the moves made by each CHE type throughout the terminal for all operations during each hour. To see a breakdown of moves, a left mouse click on a column to displays pie charts giving a further breakdown of the moves by
Container sizes: 20ft, 40ft, others
Categories: IMP, EXP, T/S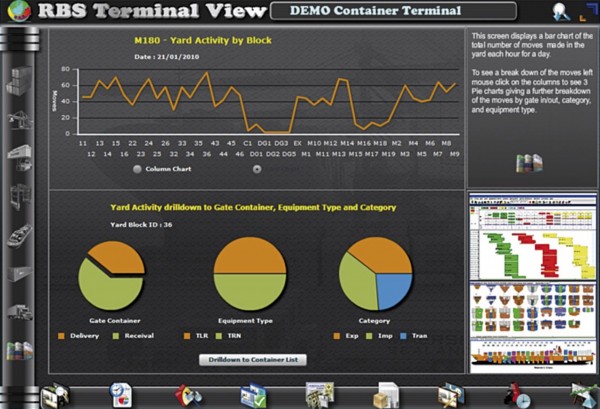 System Architecture
Yard activity by blocks: displays a column bar chart of the total number of moves made in each yard block for a specified period of time. To see a break down of the moves a left mouse click on the columns displays pie charts with a further breakdown of the moves – or you can even drill down to list of containers.
Gate container: receival and delivery
Categories: IMP, EXP, T/S
Moves per equipment type: RTG/RMG/STR/TLR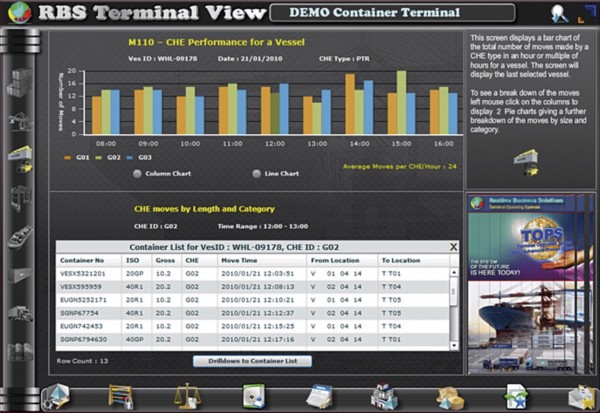 CHE performance by vessel
Displays a bar chart of the total number of moves by a CHE type per hour for a vessel for a specified period of time. The screen displays the last selected vessel. To view the selection criteria for the data click the parameter panel icon. To see a break down of the moves a left mouse click on the columns displays pie charts giving a further breakdown of the moves by
Container sizes: 20ft, 40ft, others
Categories: IMP, EXP, T/S